Singapore – Philips today announced its continuing commitment to the local community as it aims to raise more than $100,000 for three charities under the Community Chest by year end to mark 60 years of making a difference in Singapore. Philips also announced the opening of the first Lighting Experience Centre for Asia in Singapore.
"Philips has provided Singaporeans and businesses with innovative and meaningful solutions since 1951," said Wong Lup Wai, Country Manager of Philips Electronics Singapore. "We are proud to be a trusted brand most households are familiar with and a strong partner for organizations in Singapore. We are committed to make a difference in Singapore and will continue to improve people's health and well-being by delivering sustainable and meaningful innovations to everyday living as well as solutions to address complex societal issues and challenges."
Contributing to the Community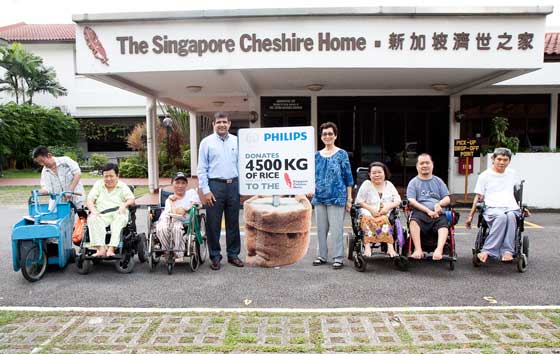 Cementing Philips' commitment to the community is its goal to raise more than $100,000 for three charities this year – Lighthouse School, Lions Befrienders, and Singapore Cheshire Home.
Fund-raising activities will be conducted over the next six months to help raise funds for the beneficiaries. In addition, Philips will be donating one year's supply of rice, totaling 4,500kg, to the Singapore Cheshire Home. This was raised during the Great Singapore Sale through Philips' Family Rewards program.
"We are deeply grateful to Philips for choosing Community Chest as the beneficiary of their 60th anniversary celebration. Funds raised by Philips will go to three charities supported by Community Chest, namely Lighthouse School, Singapore Cheshire Home and Lions Befrienders, to provide education for children and youths with special needs, help people with disabilities lead independent lives and dignify the lives of the elderly," said Ms Tan Bee Heong, Director, Community Chest. "Besides raising funds, staff from Philips will also be lending their helping hands to install new lamps in the homes of 60 elderly beneficiaries of Lions Befrienders. We would like to offer our most sincere thanks to them for giving their time so wholeheartedly to bring cheer to the less fortunate."
Opening of First Lighting Experience Centre in Asia
Philips recognizes Singapore's key strategic position as a business hub and has rolled out many key initiatives and invested in facilities located within the island state. The latest is the newly-launched Lighting Experience Centre housed at the Philips' Toa Payoh Complex. This first-of-its-kind centre in Asia is a key initiative driving Philips' fast-growing professional lighting business across the region.
The Lighting Experience Centre showcases how different Philips LED lighting can enhance and create ambience in a variety of application scenarios – outdoor and urban lighting for cities, parks, streets, buildings, and retail lighting for supermarkets and boutiques. It takes designers and specifiers through real-life lighting scenarios to illustrate the possibilities of LED lighting.
"Lighting plays a crucial role by casting outdoor spaces in an appealing, inclusive atmosphere creating places for people to meet and interact. This Centre will enable designers from Singapore and Asia to experiment with the different Philips LED lighting solutions to truly see what light can do in creating iconic installations and cities," said Tiew Chew Meng, General Manager of Philips Lighting Singapore. "The opening of Asia's first Lighting Experience Centre is truly an exciting initiative for Philips and we are proud to launch it as we kickoff our 60th anniversary celebrations. Singapore continues to be a hive of regional activity for Philips and our commitment is undeniable as continued investment in innovation here affirms Singapore as our strategic hub for the region."
Philips' Innovation in Singapore
Over the past six decades, Philips has developed into a trusted household brand, providing innovative solutions and products for better health and well-being across its business units to Singaporeans. As one of the first manufacturers to bring television sets to Singapore in 1963, Philips has since expanded its portfolio and local presence, and has continued to drive the Singapore economy through the years.
In 2000, the Philips Innovation Campus was set up with the goal of enhancing the skills of Singapore's talent pool through technology transfer and collaborations with local institutions. It is one of Philips' largest product development centers outside the Netherlands, with over 320 new inventions for the global market developed there. Development work at the Campus also gives birth to new design ideas and innovations that generate economic spin-offs and add value to Singapore's knowledge-based economy.
A special microsite highlighting Philips' key milestones will be launched in celebration of Philips' 60 years in Singapore. Containing information and infographics about Philips' journey since 1951, the site also features Philips' innovations that were developed and introduced right here in Singapore, such as the Philips Ambisound SoundBar and its lighting solutions for the Night Safari, the world's first Formula One™ night race and the Singapore Flyer.
"Philips has grown from strength to strength in Singapore since its inception in 1951," said Mr Wong. "We will continue to make innovation a key priority and to improve people's health and well-being with meaningful, sustainable innovations. This year, being a key milestone in our Singapore journey, we want to celebrate how we have made a difference in the lives of Singaporeans, to the businesses, and to the society at large these past 60 years, and how we will continue doing so for many more years into Singapore's future."
For more information about Philips' key milestones in Singapore and its 60th anniversary celebrations and activities, visit https://www.philips.com.sg/60thanniversary.