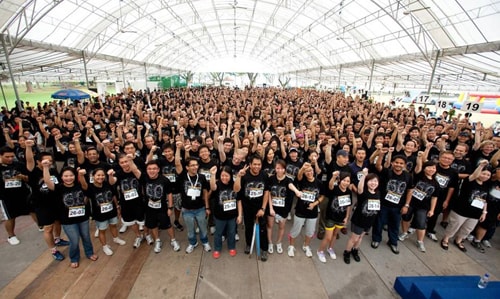 ONE FOR THE CAMERA: Philips employees set a new Singapore Record for the Largest Three-Legged Race – the most number of "3-legged" pairs to complete a 200-metre dash

Singapore – More than 800 Philips staff paired up and bound their legs together to compete in Singapore's Largest Three-Legged Race, setting a new record for Singapore and making their way into the Singapore Book of Records. In all, 439 pairs of Philips employees participated in the race, where each pair had to complete a 200-metre dash. 
The feat was performed in celebration of Philips Singapore's 60th anniversary, where the company has also pledged its commitment to making a difference in the community. Its goal is to raise more than $100,000 for three charities this year – Lighthouse School, Lions Befrienders, and Singapore Cheshire Home.

 

Fund-raising activities will be conducted over the next six months to help raise funds for the beneficiaries. In addition, Philips also donated one year's supply of rice, totaling 4,500kg, to the Singapore Cheshire Home. This was raised during the Great Singapore Sale through Philips' Family Rewards program.

 

For more information about Philips' key milestones in Singapore and its 60th anniversary celebrations and activities, visit https://www.philips.com.sg/60thanniversary.