This marks the latest installment of an ambitious, groundbreaking program that aims to improve people's quality of life in Asia Pacific through collaboration and meaningful innovation.
The '+' Project will engage people from all walks of life in Singapore on local health and well-being challenges impacting the nation, through a broad campaign including an interactive digital platform at www.philips.com.sg/plus 
Program aims to deliver truly meaningful innovations through engagement and co-creation of solutions with key partners, organizations and everyone in Singapore
Philips to invest US$50,000 to realize the winning idea
                              Watch the video on The '+' Project by Philips in Asia Pacific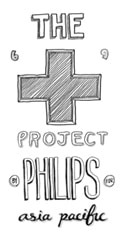 Singapore – Royal Philips Electronics (NYSE: PHG, AEX: PHI) today launched The '+' Project in Singapore. This groundbreaking program aims to find innovative and people-centric solutions to health and well-being challenges impacting people living in the country. Successfully launched in Indonesia (www.philips.co.id/plus) and Thailand (www.philips.co.th/plus), The '+' Project also seeks to collaborate with local communities to develop and co-create truly meaningful innovations that improve people's health and well-being.
"Philips has more than 120 years of innovation experience and 60 years of local partnerships where we have witnessed and contributed to Singapore's transformation. We want to continue to help its people take better care of themselves and their loved ones. Through The '+' Project, we will engage the community to co-create meaningful solutions that positively impact people's health and well-being. We are truly excited to bring The '+' Project to Singapore," said Ms. Harjit Gill, Chief Executive Officer of Philips ASEAN & Pacific and Chairman of Philips Singapore.
"Initiatives like The '+' Project certainly complement community efforts on the ground very well in helping Singaporeans improve their quality of life. We welcome private sector initiatives that reinforce the People's Association (PA) Active Ageing Council's efforts to promote active ageing and healthy living among Singaporeans through the national Wellness Programme. By helping individuals improve their health and well-being as early as possible in life, we are helping them live life to the fullest," said Dr. Tan Yong Seng, PBM, Chairman, PA Active Ageing Council.
Philips will engage everyone in Singapore via a broad campaign, including a highly interactive online platform that aims to gather information on personal health and well-being concerns. On this platform, all Singaporeans can vote and rank five concrete ideas, developed by Philips with its key industry partners and influencers, to improve the quality of life in Singapore. Out of these five ideas, cutting across the thematic platforms of Healthy Living, Access to Healthcare and Livable Cities, one winning idea will be chosen through public voting. Together with partners and key societal organizations, Philips will realize the winning idea and invest up to US$50,000 in the project.
                              Five Ideas Proposed by The '+' Project by Philips in Singapore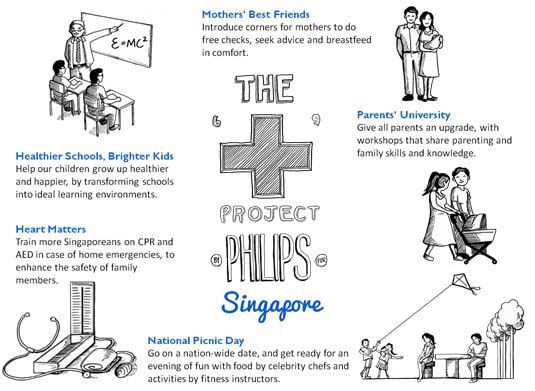 "The approach behind The '+' Project perfectly captures what we stand for as a company," said Ms. Gill. "We believe that to fundamentally improve the quality of people's lives, we need to first listen to the challenges people face. And then team up with community and stakeholders to bring to the market meaningful solutions. Only by driving innovation this way, can we really change things and arrive at what we call 'meaningful innovations'."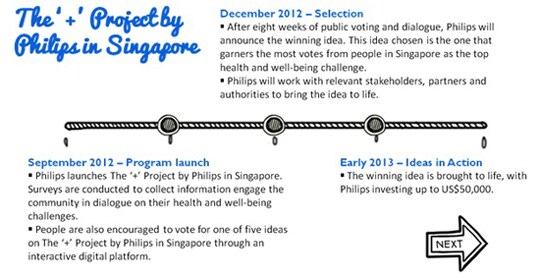 The '+' Project in Singapore will evolve into a long-term campaign to drive improvement in health and well-being for all people here. Rapid development in the region has changed the way people live and take care of themselves and their loved ones. For Philips, The '+' Project is a key platform to drive change and to place a greater focus on health and well-being across Asia Pacific.
Philips will also kick-off a two-week contest to get the online community to complete the survey and contribute by tweeting their solutions to the five ideas. Join our conversations on Twitter with #SGPlus. 
For more information on The '+' Project by Philips in Singapore and on the survey, visit www.philips.com.sg/plus.