Troubleshooting
My Saeco GranBaristo espresso machine won't grind the beans
If your Saeco GranBaristo espresso machine is not grinding the beans, there might be a simple solution.
The coffee funnel is blocked by ground coffee
Unblock the coffee funnel with a spoon handle
Switch the machine OFF and wait until you no longer hear a sound (this can take up to 15-20 seconds)
Remove the brew group
Open the lid of the pre-ground coffee funnel and place the spoon handle into the funnel
Note: if there is no pre-ground coffee funnel, insert the spoon handle into the coffee funnel from below
Move the handle up and down until the clogged ground coffee falls down
Note: Some force may be required
Remove all the fallen ground coffee and replace the brew group
Brew an espresso
After brewing, check if the funnel is still free from ground coffee. If not, repeat the unblocking procedure.
To prevent blocking of the coffee funnel
Do not pour/spill any water into the coffee bean container
Clean the coffee funnel weekly
Disassemble and clean the bean container
Remove the coffee bean container and disassemble it
Clean both parts with a cloth and place the coffee bean container back into the machine
Also clean the area under the coffee bean container with a cloth
Step 1 to disassemble/attach the bean container
1) Push the selector to the unlock position. Lift the container with both hands. Note: If the selector cannot be pushed all the way to the unlock position, it is blocked by coffee beans. In this case, move the selector back and forth until the beans are released

Step 2 to disassemble/attach the bean container
2) Remove all coffee residues underneath the coffee bean container with a damp cloth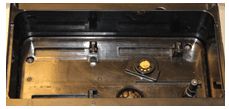 Step 3 to disassemble/attach the bean container
3) Detach the coffee bean container and clean both parts with a cloth. Note: To detach the two parts of the coffee bean container, turn it and push down the small hooks in the bottom
Step 4 to disassemble/attach the bean container
4) Reattach the two parts of the coffee bean container

Step 5 to disassemble/attach the bean container
5) Place the coffee bean container back into the machine and push the selector to the lock position

Step 6 to disassemble/attach the bean container
6) Place the lid back on the bean container. When you place the lid back, make sure that the part marked with the circle in the picture below is free from dirt and coffee beans