Troubleshooting
My Philips Garment steamer does not produce steam
When your Philips garment steamer (handheld or stand steamer) does not steam, there could be several causes. Learn more here.
The steamer has not heated up sufficiently
Your garment steamer requires heating before steaming. Please allow it to heat up for 45 to 60 seconds before using it (the steam-ready blue light will flash).
When the steamer has heated up and is ready for use, the blue light will stop flashing.
There is no water (or low water level) in the tank
If the tank is empty, your Philips garment steamer will not be able to produce steam.
Please refill the water tank.
The water tank is not inserted properly
If the water tank is not properly inserted, your garment steamer might not be able to produce steam.
Please remove the water tank and insert it again correctly.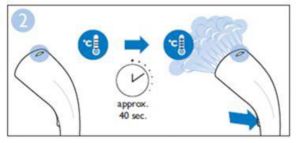 There is condensation in the hose (only for stand steamers)
Lift up your stand steamer's head to straighten the hose vertically: This will allow any condensation to flow back. After this, your stand steamer should produce steam again.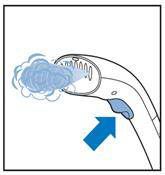 Too much scale has built up (only for stand steamers)
When scale builds up in your Philips stand steamer, it might not be able to produce steam.
Please perform the de-calc process detailed in the following lines:
1) Switch off and unplug your stand steamer and allow it to cool down for an hour.
2) Bring the steamer to a sink.
3) Locate the de-calc knob (you will find it on the lower area of the water tank).
4) Turn the de-calc knob anti-clockwise to unlock it.
5) Pull the de-calc knob out and let the water drain.
6) Once all water is drained, push the de-calc knob back in and turn it clockwise to lock it.