Philips Support
My Philips TV does not switch on with the remote control
Published on 2016-12-29
Make sure that the power cable is properly secured into the power socket of the TV and switch [ON] the TV with the [Power] switch. Your TV [Power] switch is located at the back right-hand side of the TV. There is no red indicator when the TV is switched [OFF].
Note: Although your TV consumes very little power when switched [OFF] with the [Power] switch, we recommend that you switch [OFF] the TV completely by disconnecting the power plug if you are not going to use it for an extended period of time. When disconnecting the power cable, always pull the power plug, never the cable. Ensure that you have full access to the power plug, power cord and outlet socket at all times.
If your TV still does not switch [ON]:
Please contact the Philips Customer Care center for further assistance or to find more information related to this issue. You can find the contact details on the Customer Support page.
Make sure you have the model number and the serial number at hand when you call us. You can find these numbers on the sticker at the side/back/bottom of your TV.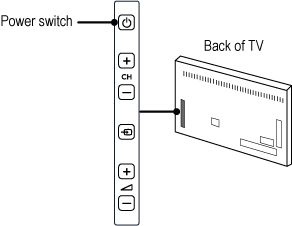 Our site can best be viewed with the latest version of Microsoft Edge, Google Chrome or Firefox.