Philips Avent
Comfort breast shell set
SCF157/02



Philips Avent
Comfort breast shell set
SCF157/02
Make it a bundle and save
Make it a bundle and get 1 item for free
Choose one of the following:
Choose one of the following products:
Add accessories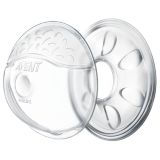 Collect excess breast milk
Philips Avent breast milk collection shells (no holes)- collect excess breast milk when feeding or using a breast pump.
Protect sore nipples
Ventilated shells- protect sore or cracked nipples to help them heal more quickly. Their gentle pressure helps relieve engorgement. The holes allow air to circulate.
The breast shells can be used when breast feeding or pumping
The breast shells can be used when breast feeding or pumping. They come with ultrasoft silicone backing cushions.
Technical Specifications
Protection against

Cracked nipples

Sore nipples

Material

Backing cushions

What is included

Ventilated breast shells

Non-ventilated breast milk saver shells

Ultrasoft backing cushions

Development stages

Stage
This section contains consumer opinions on the product. Philips dissociates itself from the contents entered by consumers in this section and consequently any technical information and / or advice on the use of the product included therein are not intended as official Philips information.
You are about to visit a Philips global content page
Continue
Our site can best be viewed with the latest version of Microsoft Edge, Google Chrome or Firefox.