Servings
4 persons,
Preparation time
10 minutes,
Cooking time:
60 minutes
Ingredients
1 tablespoon of olive oil
1 teaspoon of unsalted butter
1 kilogram of onions, peeled and halved
6 cloves of garlic, peeled
1 small bunch of fresh thyme, leaves picked
1 fresh bay leaf
1.5 litres of beef stock, preferably organic
sea salt and freshly ground black pepper
1 baguette or ciabatta
Directions
Make sure the stirrer attachment is in place in the pan, then set the temperature to 250°C.
Once the pan has heated up, add the olive oil and butter. Sit the Cutting tower alongside the HomeCooker with the slicer in place and switch it on. Run through the onion and garlic (if you don't have a Cutting tower, simply slice by hand).
When it's all sliced up and in the pan, add the thyme and bay leaves, put the lid on and set the timer for 20 minutes, so the onions turn golden. Move the Cutting tower to one side.
Remove the lid and add a good splash of stock to stop the onions frying. Reduce the temperature to 130°C and set the timer for 10 minutes to let the onions cook down. When the time's up, add the rest of the stock and season it, then set the timer for a further 20 minutes and let the soup gently simmer.
Meanwhile, preheat your oven to full whack (240°C).
Tear the bread into chunks.
Coarsely grate the Gruyère into a bowl using the Cutting tower (or a box grater). Place four ovenproof soup bowls in a sturdy roasting tray.
Switch off the HomeCooker and ladle the soup between the bowls, so they're full to about 3cm from the top. Divide the bread chunks between the bowls, sitting them on top of the soup, then scatter over the cheese and finish with a twist of black pepper.
Carefully place on the top shelf of the oven to bake for about 3 minutes, or until the bread is crispy and the cheese is melted and bubbling.
Carefully lift the tray out of the oven and serve, remembering that the bowls are super hot. Great with a glass of good red wine.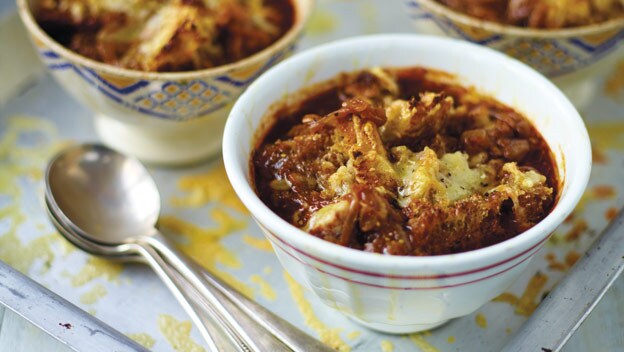 You are about to visit a Philips global content page
Continue
You are about to visit the Philips USA website.
I understand
Our site can best be viewed with the latest version of Microsoft Edge, Google Chrome or Firefox.