Servings
4 persons,
Preparation time
30 minutes,
Cooking time:
10 minutes
Ingredients
750 g ripe tomatoes
1 small onion, chopped finely
1 clove garlic, chopped finely
250 ml beef stock or vegetable stock
3 tablespoons olive oil
½ ciabatta, in cubes
½ teaspoon coarse sea salt
50 g Parmesan cheese, freshly grated
2 tablespoons fresh basil, chopped
Directions
Quarter the tomatoes and remove the seeds. Put the tomatoes in the XL steaming bowl and mix in the onion and garlic.
Remove the bottom from steam bowl 3. Place steaming bowl 3 onsteaming bowl 2, and place both on the drip tray. Hang the XL steaming bowl in steaming bowl 3.
Pour the stock over the tomatoes and stir in 1 tablespoon olive oil.Put the lid on the steaming bowl. Set the timer to 30 minutes and steam until the tomatoes are tender.
In the meantime pre-heat the oven to 200 °C. Divide the ciabatta cubes over a baking tin and sprinkle them with 2 tablespoons olive oil and the sea salt. Bake the croutons for 10 minutes in the oven until golden brown.
Purée the tomatoes with the stock in the blender and season to taste.
Serve the tomato soup in bowls and garnish with croutons, Parmesan cheeseand basil.

Chef's tip: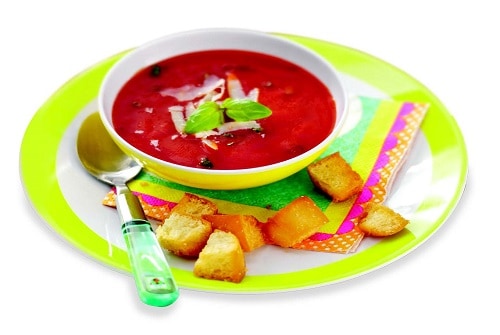 You are about to visit a Philips global content page
Continue
You are about to visit the Philips USA website.
I understand
Our site can best be viewed with the latest version of Microsoft Edge, Google Chrome or Firefox.