Troubleshooting
The coupling unit of my Philips chopper is dirty
When the coupling unit of your Philips chopper is dirty, there could be several causes. Learn more here.
The top of the chopper knife got dirty
If the top part of the knife got dirty while filling ingredients into the bowl, clean it as follows (please, be careful not to hurt yourself with the blades):
1) Rinse the top part of the knife under the tap.
2) Then dry it and put the knife back into the bowl.
3) Place the lid and the motor unit onto the bowl.
The bowl has been overfilled
If your chopper's bowl is overfilled, the ingredients may get to the coupling unit. Please do not exceed the quantities indicated in the user manual.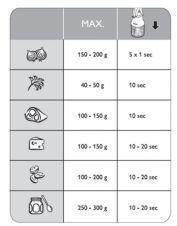 Cleaning the coupling unit
If your coupling unit is dirty please clean it with a damp cloth or wait until residues are dry and remove them with a toothpick. Never rinse the motor unit under the tap or put it into the dishwasher.