Servings
4 persons,
Preparation time
0 minutes,
Cooking time:
35 minutes
Ingredients
500 g baby potatoes in their jackets
4 dessertspoons of flat-leaf parsley, finely chopped
500 g green asparagus cut into pieces of 3 cm
1 fennel bulb cut into thin wedges
3 spring onions cut into pieces of 2 cm
1 teaspoon of coarsely ground black pepper
2 teaspoons paprika powder
2 teaspoons orange rind
8 red mullet fillets or 400 g redfish fillet with skin in 8 pieces
1 red paprika, cut into wafer-thin strips
2 dessertspoons medium dry sherry
Directions
Quarter the baby potatoes lengthwise and toss them together with 2 dessertspoons of parsley in basket 3. Set the timer to 12 minutes, press the 'start-stop' button en steam the baby potatoes.
Arrange the asparagus, fennel and spring onion in basket 4. Place basket 4 on top of basket 3. Set the timer to 8 minutes and press the 'start-stop' button. Steam the baby potatoes, asparagus andfennel until tender but still crisp.
Mix the pepper, paprika powder and orange rind together and rub half of this mixture into the fish fillets on the side without skin. Mix the remaining herbs and parsley in with the paprika strips. Spread the paprika over the bottom of basket 2 and place the fish fillets on top.
Pour the sherry into the flavour booster and place basket 2 underneath basket 3 and 4. Turn the dial to the 'fish' setting, switch on the Gentle Steam and set the timer to 14 minutes . Press start and steam the fish fillets until they are just done.
Arrange the baby potatoes, asparagus and fennel on warmed plates and place the red mullet fillets alongside. Spoon the paprika over the fish.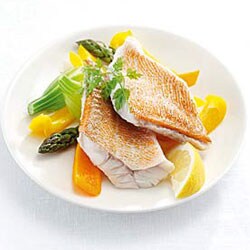 Our site can best be viewed with the latest version of Microsoft Edge, Google Chrome or Firefox.