Appetizer – 20 portions
Servings
persons,
Preparation time
20 minutes,
Cooking time:
20 minutes
Ingredients
125 g chorizo, in small cubes
1 shallot, finely chopped
¼ red bell pepper, diced into small cubes
2 tablespoons parsley
200 g chilled pie crust dough (pâte brisée) or pizza dough
Directions
Stir the chorizo with the shallot and bell pepper in a skillet and fry on low heat for 2 to 3 minutes until the bell pepper is tender. Take off the heat and stir in the parsley. Allow the mixture to cool.
Preheat the AirFryer to 200°C.
Use a glass to cut twenty 5 cm rounds from the dough. Scoop a spoonful of the chorizo mixture onto each round. Press the edges together between thumb and index finger, creating a scallop pattern.
Put 10 empanadas in the basket and slide the basket into the AirFryer. Set the timer to 10 minutes and bake the empanadas until they are golden brown and done.
Bake the remaining empanadas in the same way. Serve the empanadas lukewarm.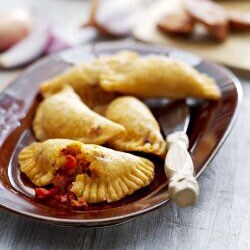 You are about to visit a Philips global content page
Continue
You are about to visit the Philips USA website.
I understand
Our site can best be viewed with the latest version of Microsoft Edge, Google Chrome or Firefox.