How to make ice cream with my Philips ice cream maker
Published on 2021-07-04
You can make delicious ice cream with your Philips ice cream maker by following a few simple steps. Discover how.
Step 1:
Prepare the mixture of ingredients for the ice cream in a separate bowl. Preferably use ingredients at fridge temperature.
Step 2:
Remove the cooling disc from the freezer. Make sure your hands are dry when handling the frozen cooling disc.
Step 3:
Check if the disc is properly frozen and free of ice.
If the disc is properly frozen, its contents will have turned hard all over.
If you hear a crunching sound when you press the bottom of the disc with your thumbs, the disc is not properly frozen yet.
If a film of frost has developed on the cooling disc, you can remove it by means of wooden or plastic spatula.
Step 4:
Place the frozen cooling disc in the bowl of the ice-cream maker.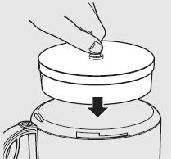 Step 5:
Insert the front edge of the motor unit into the cover.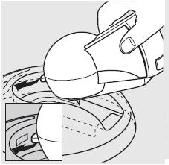 Step 6:
Push the motor unit downwards into the cover until it locks in to place (you will hear a click).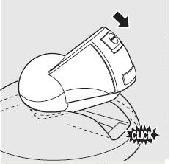 Step 7:
Insert the stirrer into the hole of the motor unit (you will hear a soft click).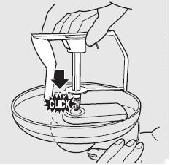 Step 8:
Place the top of the ice-cream maker on the bowl. Turn the top in the direction of the arrow until it locks (you will hear a click).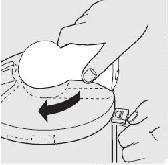 Step 9:
Put the mains plug in the wall socket. The ice cream maker is now ready for use.
Step 10:
Before putting the ingredients in the bowl, switch the appliance on by pressing the on/off button. This is necessary to prevent ingredients from freezing onto the cooling disc right away.
Step 11:
You are now making ice cream. Compact ice cream will take about 40 minutes to prepare, soft ice cream will be ready in approximately 20 minutes.