Servings
4 persons,
Preparation time
20 minutes,
Cooking time:
10 minutes
Ingredients
8 sprigs fresh dill
150 g fresh spinach
300 g fresh salmon fillet in pieces
Egg white of 1 egg, lightly beaten
4 dessertspoons cream
Freshly ground black pepper
100 ml Greek yoghurt
2 dessertspoons mayonnaise
Rind and juice of half a lemon
A handful of watercress
Directions
Chop the sprigs of dill finely. Place the spinach in basket 3 and sprinkle it with the finely chopped dill. Set the timer to 4 minutes, press the 'start-stop' button and allow the spinach leaves to shrink.
In the meantime, puree the salmon fillet in the food processor and mix in half of the egg white together with the cream. Add teaspoon of salt and some pepper and mix everything into a smooth mixture. Spoon the salmon mixture into the moulds, press it in well and smooth the tops.
Remove the basket with the spinach leaves from the steamer and allow the leaves to drain well. Place the moulds with the salmon in basket 4 . Turn the dial to the 'fish' setting, switch on the Gentle Steam and set the timer to 10 minutes. Press start and steam the salmon moulds until they are firm.
Puree the spinach in the food processor. Add the yoghurt and mayonnaise together with 1 dessertspoon of lemon juice and the lemon rind and mix everything to form a bright green, creamy sauce. Flavour the sauce with salt and pepper to taste.
Turn out the moulds onto four plates and drizzle the sauce around them. Garnish with the watercress.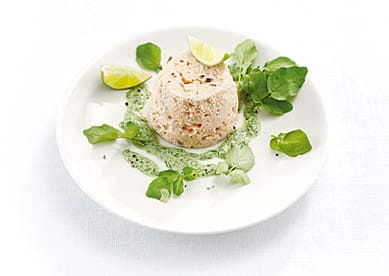 Our site can best be viewed with the latest version of Microsoft Edge, Google Chrome or Firefox.