Servings
4 persons,
Preparation time
15 minutes,
Cooking time:
35 minutes
Ingredients
2 tablespoons olive oil
4 rashers of smoked streaky bacon, finely sliced
1 small bunch of spring onions, trimmed and finely sliced
350 grams of potatoes, washed and chopped into 2 centimeter chunks
200 grams of frozen sweetcorn
300 grams of fillet of smoked haddock, skin off and pin-boned
3 fresh bay leaves
3 sprigs of fresh thyme
1 litre of chicken stock, preferably organic
100 milliliters of single cream
200 grams of peeled cooked prawns
sea salt and freshly ground black pepper
150 grams pack of large matzo crackers or similar
1 lemon, cut into wedges
8 large raw prawns, shell on
4 cloves of garlic
2 tablespoons of olive oil
a few sprigs of fresh thyme
1 level teaspoon cayenne pepper
½ a fresh red chilli, deseeded and finely sliced
zest and juice of ½ a lemon
Directions
Make sure the stirrer attachment is in place in the pan, then set the temperature to 175°C. Preheat your grill to high.
Once the pan has heated up, add the olive oil and bacon. Set the timer for 8 minutes, so the bacon gets golden and crispy.
Add the spring onions, potatoes, sweetcorn, smoked haddock, bay leaves and thyme to the pan and pour in the stock. Once boiling, reduce the temperature to 130°C, put the lid on and set the timer for 17 minutes.
Meanwhile, lay the large raw prawns in an ovenproof dish.
Squash over the unpeeled garlic through a garlic crusher, add the rest of the grilled prawn ingredients and toss well to coat. Pop under the grill for 8 to 10 minutes, or until dark pink and cooked through. Put aside until ready to serve.
Pour the cream into the chowder and take the pan off the HomeCooker.
Scoop out and discard the bay and thyme then carefully remove the stirrer attachment. Push most of the potatoes to one side of the pan then blitz the soup with a hand blender to thicken. Return the pan to the HomeCooker, replace the stirrer attachment and set the temperature to 130°C. Add the little cooked prawns and set the timer for 3 minutes.
When the time's up, season the chowder to taste. Break crackers into your bowls, ladle the chowder over the top and serve with the grilled prawns and lemon wedges on the side.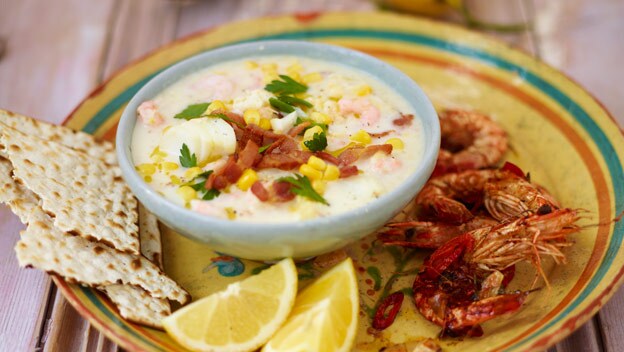 Our site can best be viewed with the latest version of Microsoft Edge, Google Chrome or Firefox.